Би өөрийн хийсэн сонголтондоо сэтгэл хангалуун байна! LAMS!
2019-08-02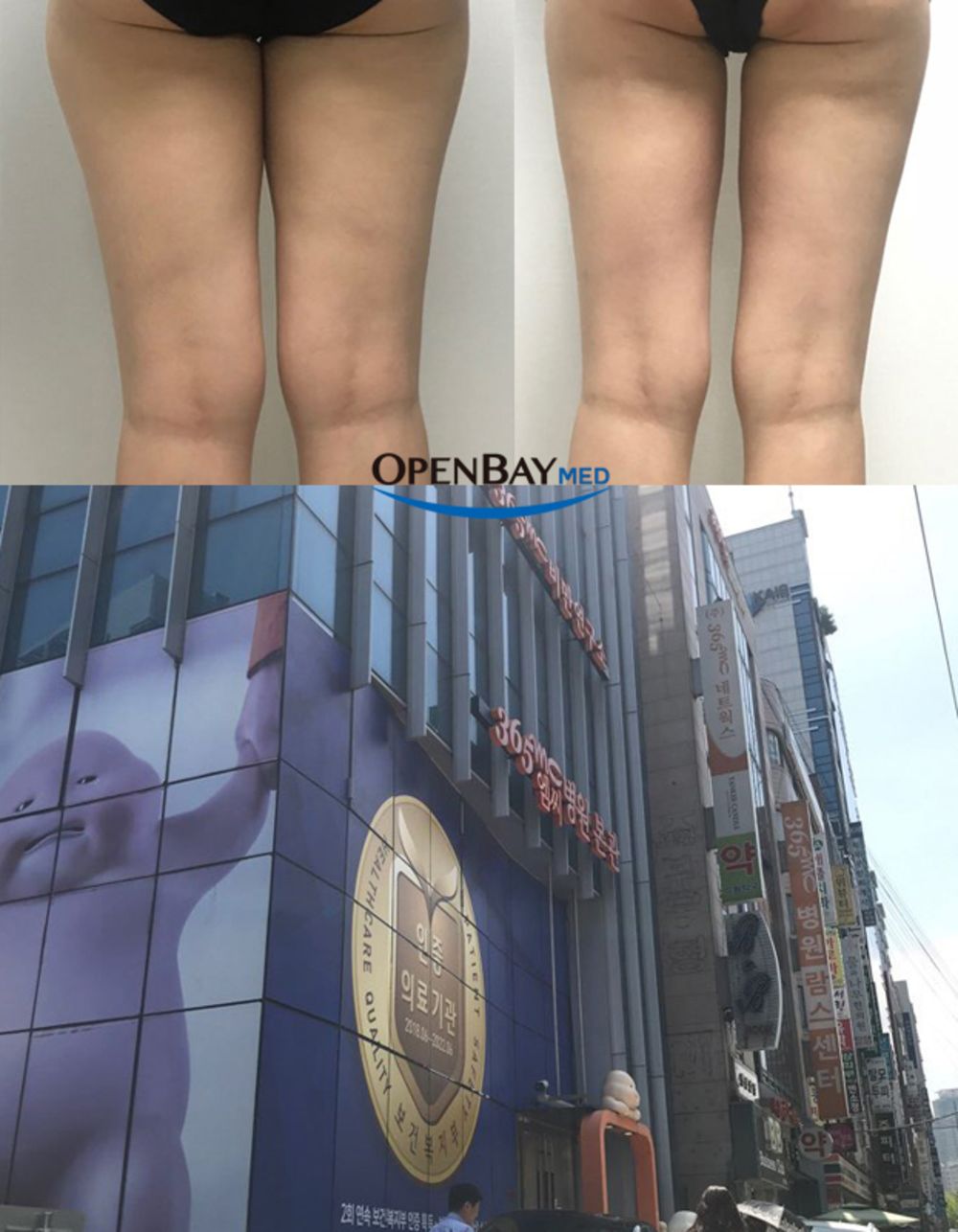 -LAMS гэж юу вэ? Дээрхи бичлэгийг үзээрэй!
Миний талаар
Би LAMS хийлгэхээсээ өмнө 163 см өндөртэй, 58 кг жинтэй байсан. Миний гуяны тойрог 55 см байсан нь 50.8 см болж багасч жин маань 53.2 болж буурсан. Өмнө нь бусад тураах эмчилгээнд орж байсан ч мэдэгдэхүйц өөрчлөлт гар байгаагүй л дээ. Би өөрийгөө илүүдэл жинтэй гэж бодож байгаагүй ч нарийхан гуятай болохыг хүсдэг байлаа. Тийм учраас LAMS хийлгэхээр шийдэж өнгөрсөн нэгдүгээр сард гэр бүлийн хамт Солонгос улсыг зорьсон юм.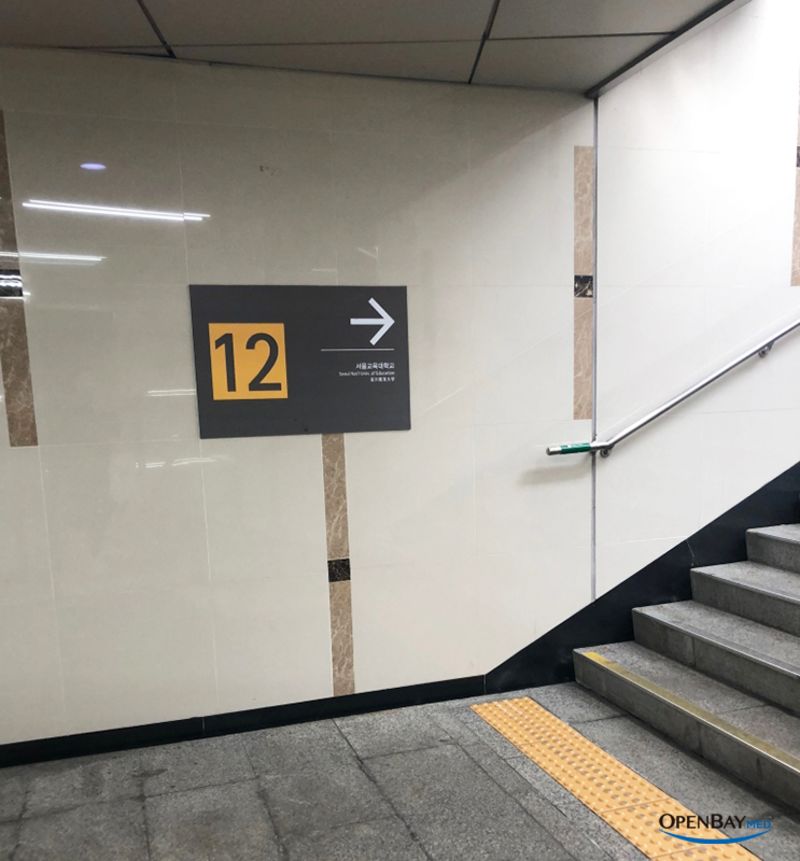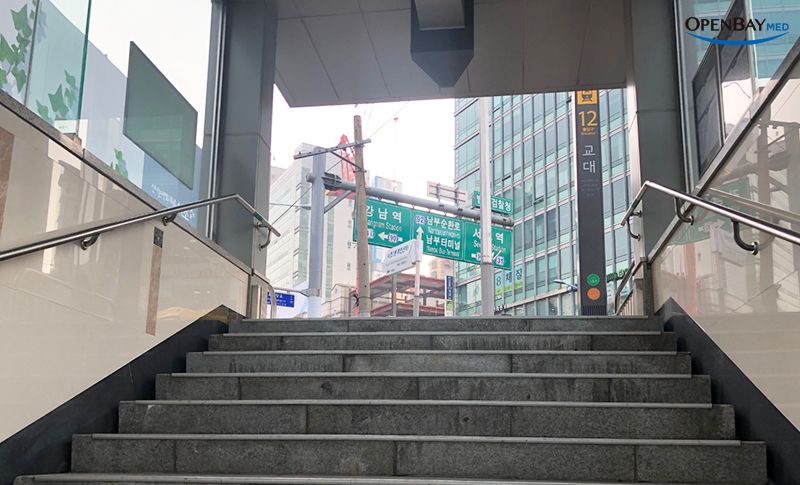 - - The hospital is at Seoul national university of education station. Line no.3. So many people at the station -


Үзлэг, зөвлөгөө
Гангнамд байрлах 365mc эмнэлэгт Зое үзлэгт орохоор зохион байгуулж өгсөн юм. Тэндхийн бүх эмч, ажилтнууд нь улбар шар хувцас өмссөн нь нүдэнд дулаахан, танил санагдсан. Бүх эмч нар нь өөх соруулах болон LAMS талаар мэргэшсэн гэж надад хэлсэн. Би эмчдээ гуяны хэсэгтээ санаа зовж байгаагаа хэлэхэд надад LAMS хийлгэхийг зөвлөсөн юм.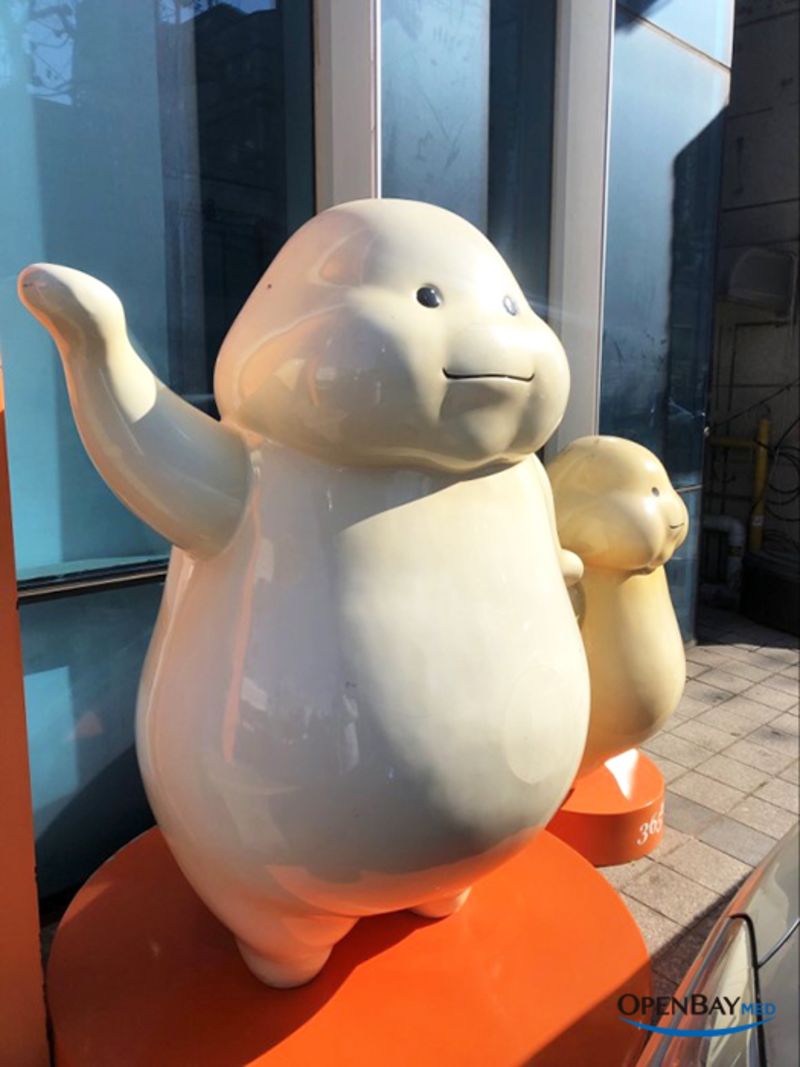 - Jibang-i(e?)!!!!!!!!!!!!!!! I finally got to see him here at the entrance!!! so cute! -

How it was done
I was little (more than little) scared that it was actually done in operating room. I was expecting to do it in treatment room because no anesthesia…. but they took proper steps of preparation. I felt pain the most during injecting the water looking liquid (Zoe: Tumescent solution). The nurse said pain level is different depending on individuals. I'm not good at enduring pain type so... I think most people could do it without worries.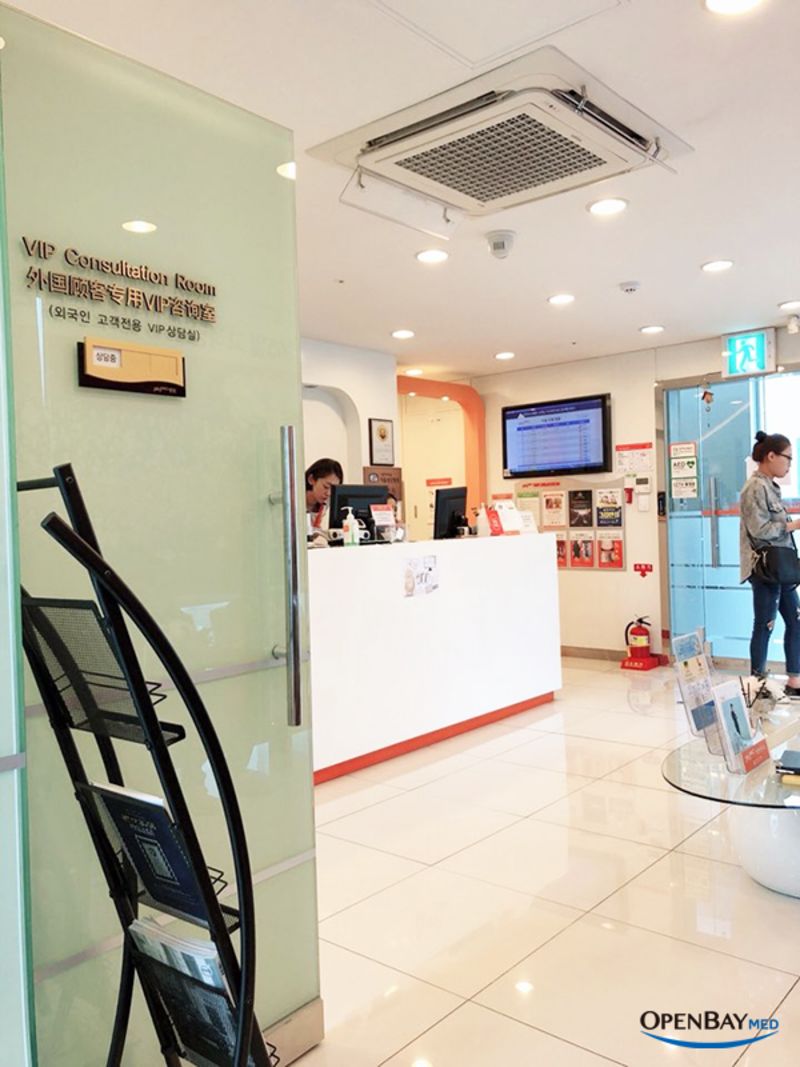 - Main lobby. It looks clear white and colorful orange. I think the orange color represents fat? Maybe? I don't know -

After LAMS
It bruises. It's not because my skin is thin or easily bruised, but I was told most people get bruises (thinner skin & more bottles get more bruises). I was recommended a cream for bruises, applied for about 2weeks, and the color seemed to improve faster. I can't tell how well it works because I can't compare though. Most uncomfortable thing was when moving; walking and sitting was okay, but I felt more pain like soreness when walking faster or going up&down stairs. People would not notice my discomfort if I didn't say.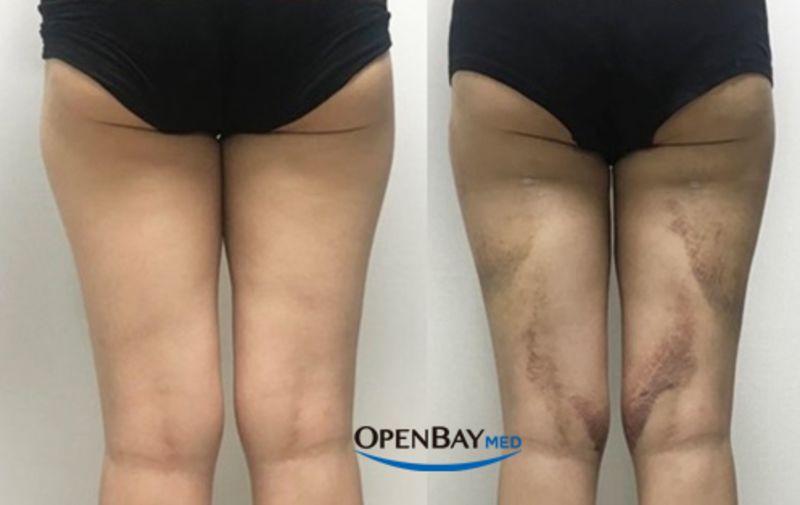 - Before & 2 weeks after Thigh LAMS. I have more bruising right after it. -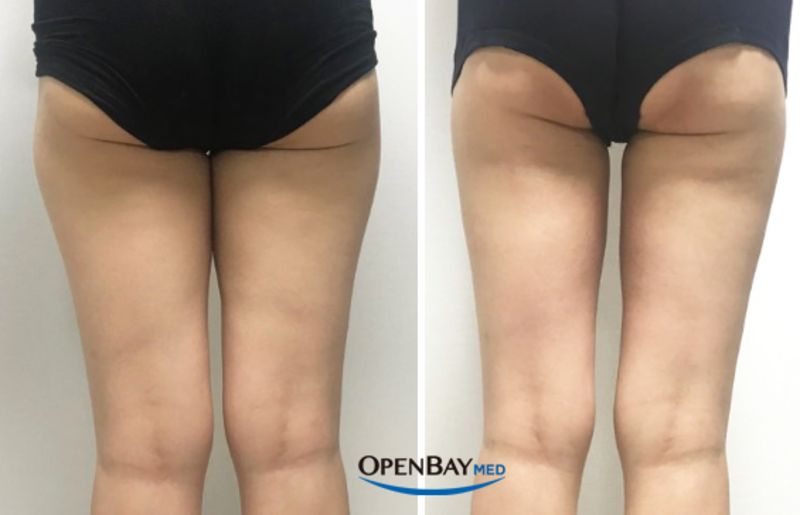 - Before & 4 weeks after Thigh LAMS. (I brightened the image) I now have the gap!!!!!!!!!!! -

It lasted about 1 week to get better. It is very important to take good care of diet after LAMS. People usually visit the hospital for nutritionist's consultation, but I was helped by Zoe; I had so many questions about weight changes, sizes, bruises and more and really loved how prompt she responded to me.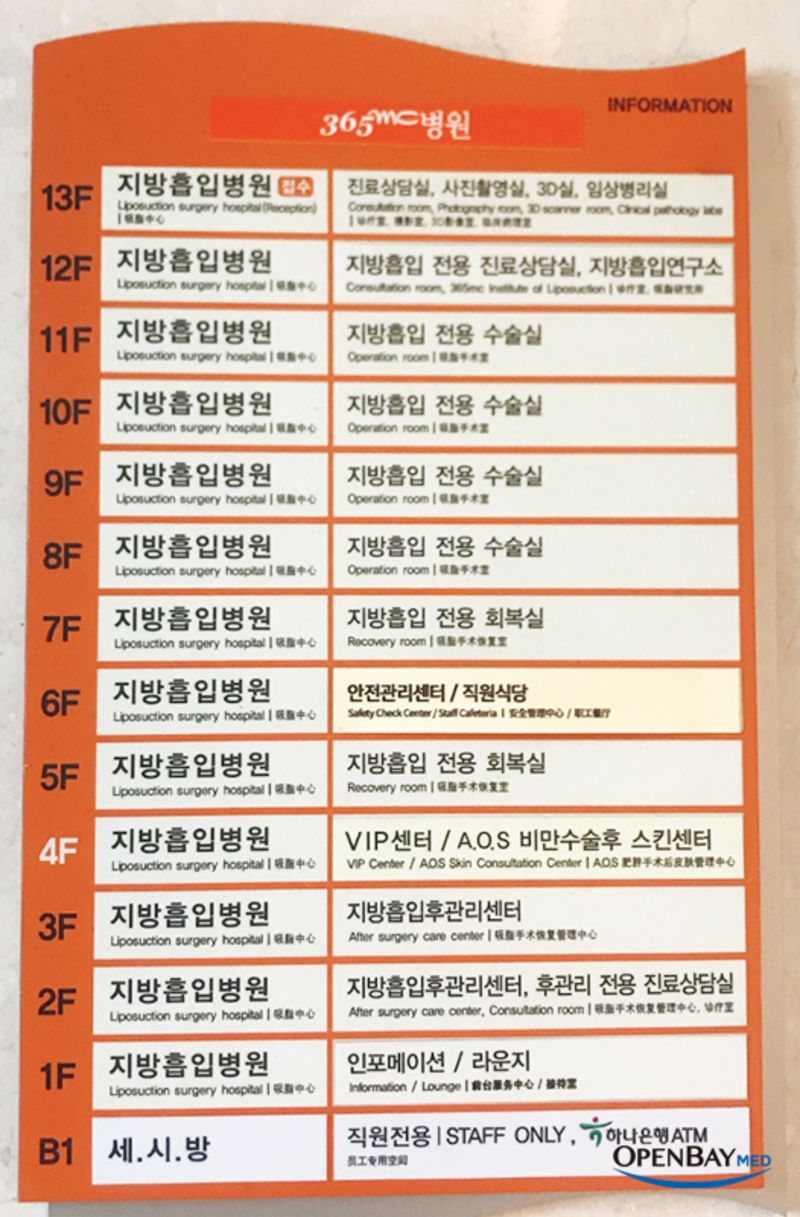 - You wouldn't believe that this whole building is made for fat fat fat only, wow.... -

Price
I had 6 bottles in total and bought 3 LAMS packages. It was originally over 3mn KRW and 10% discounted by booking through Openbay. I did not need it since I'm not overweight, but people might go for Lipo if more bottles needed. I did not expect saddle bags but was told to add it for overall smooth contour. I initially thought about Lipo (which was double almost double priced) so pricewise I am quite satisfied.